Wallpapers give a unique look to our smartphone's home screen. We use our phone a hundred times every day, and the wallpaper is the first thing we lay our eyes on. Instead of searching images through the web and downloading them one by one, you can use apps that are tailored for this purpose.
Android Wallpaper apps not only help you find wallpapers but can also determine the correct size of wallpapers needed for your device and can even update your screen daily with new wallpapers. Here, we have compiled a list of the best free wallpaper apps for Android that can boost the looks of your device.
Note: This list isn't in order of preference. Readers are advised to choose any app from this list that they find best.
Best Android Wallpaper App List 2019
1.Walli – 4K, HD Wallpapers & Backgrounds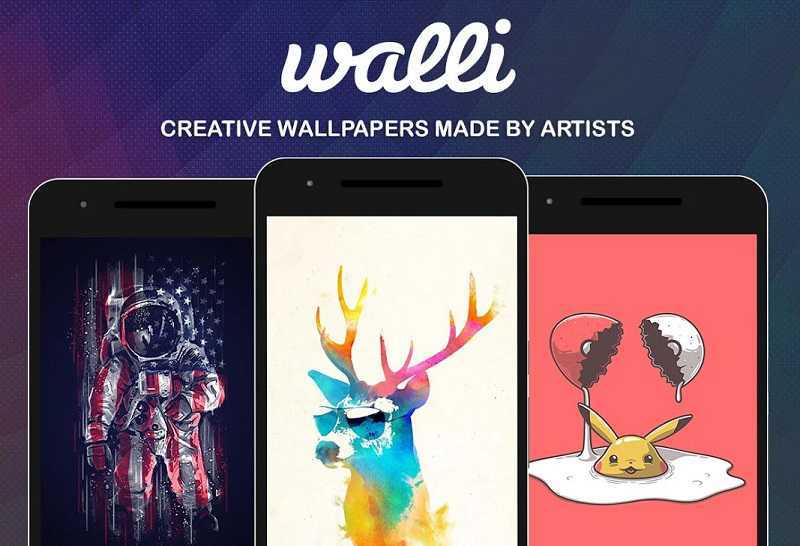 Walli has a unique and cool collection of the best Android wallpapers. The Walli team selects top artists from all over the world based on their work. The graphic artists also get rewarded as Walli shares a percentage of their earnings with those contributing artists.
The home interface of the app is divided into four sections: categories, recent, popular and featured. The featured section contains wallpapers recommended by the Walli team. Moreover, there is a wide variety of categories that you can browse for hours to find your desired wallpaper.  Each category is also subdivided into recent and popular sections. There is also an option to sign up for the app to remain synced across multiple devices.
2. Wallpapers by Google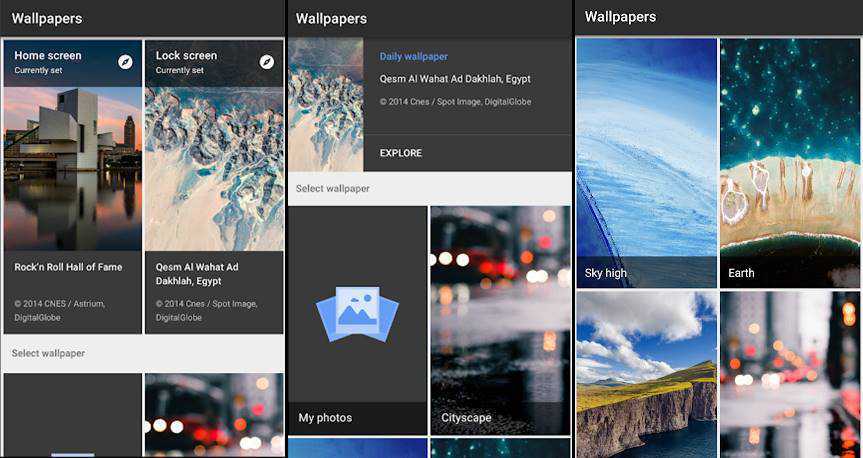 This is a wallpaper app for Android by Google LLC. It has a vast collection of wallpapers from Google+, Google Earth, and other sources. You can set separate wallpapers for home-screen and lock-screen from the app itself.
The wallpapers are divided into various categories like Landscapes, Seascapes, cityscapes, geometric shapes, etc. Moreover, there is a 'daily wallpaper' feature that can show you a new wallpaper each day from a selected category. The app is free to use.
3. Resplash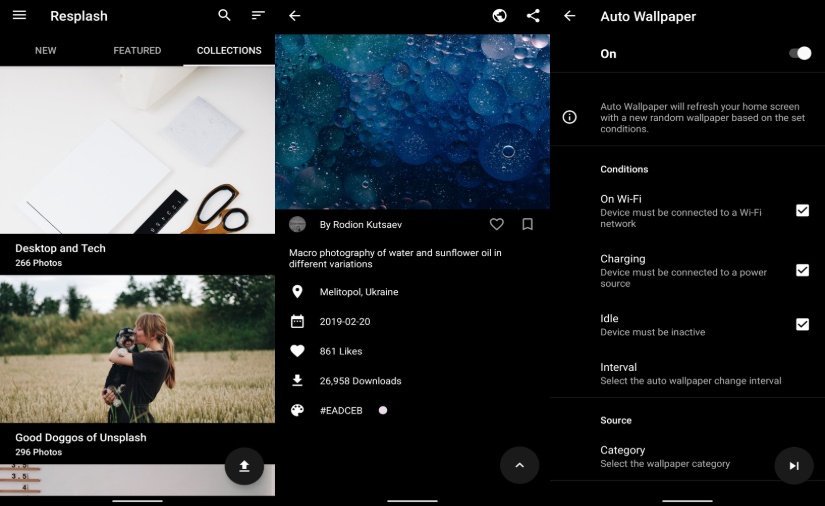 Resplash not only rhymes with Unsplash.com, but it is powered by it. Unsplash stocks free-to-use beautiful and cool images and Resplash dispenses it to the Android world. The Android app has over 800,000 HD wallpapers, but they are not random — each wallpaper is curated into distinctive collections such as "Desktop and Tech" or "Good Doggos of Unsplash" or "Sienna and Cyan" and more.
Another cool thing about this free wallpaper app for Android is it's stunning user-interface. The interface makes it easy for users navigating different wallpapers. Moreover, you can change the layout in the app settings. The app also has an AMOLED dark theme which makes the interface even more beautiful. Other than that, there is an "Auto Wallpaper" option to refresh the home screen with a new wallpaper based upon our preferences.
4. Muzei Live Wallpaper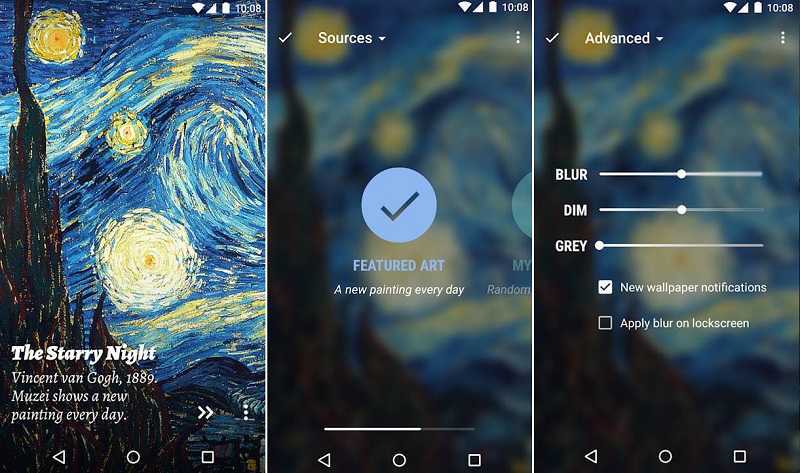 Muzei is a live wallpaper app that brings a new piece of famous art to your home screen every day. It can automatically rotate through your favourite images every few hours. The wallpaper can recede into the background by blurring and dimming the artwork so that your icons can remain in the spotlight.
You can also choose images from your gallery and other apps. It is an entirely free and open source. It allows developers to bring content from all kinds of sources to the app. It also has Android Wear support.
5. Tapet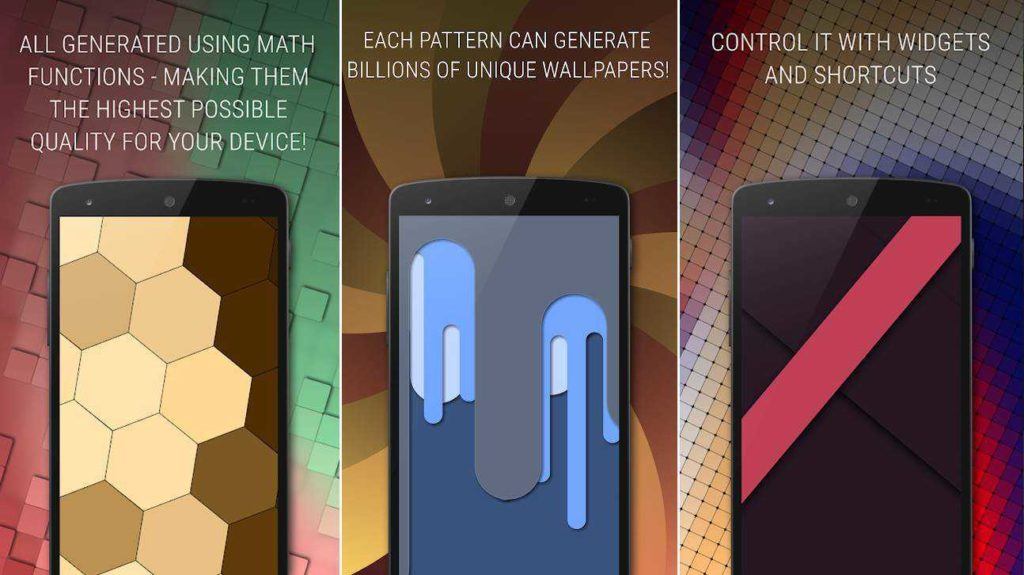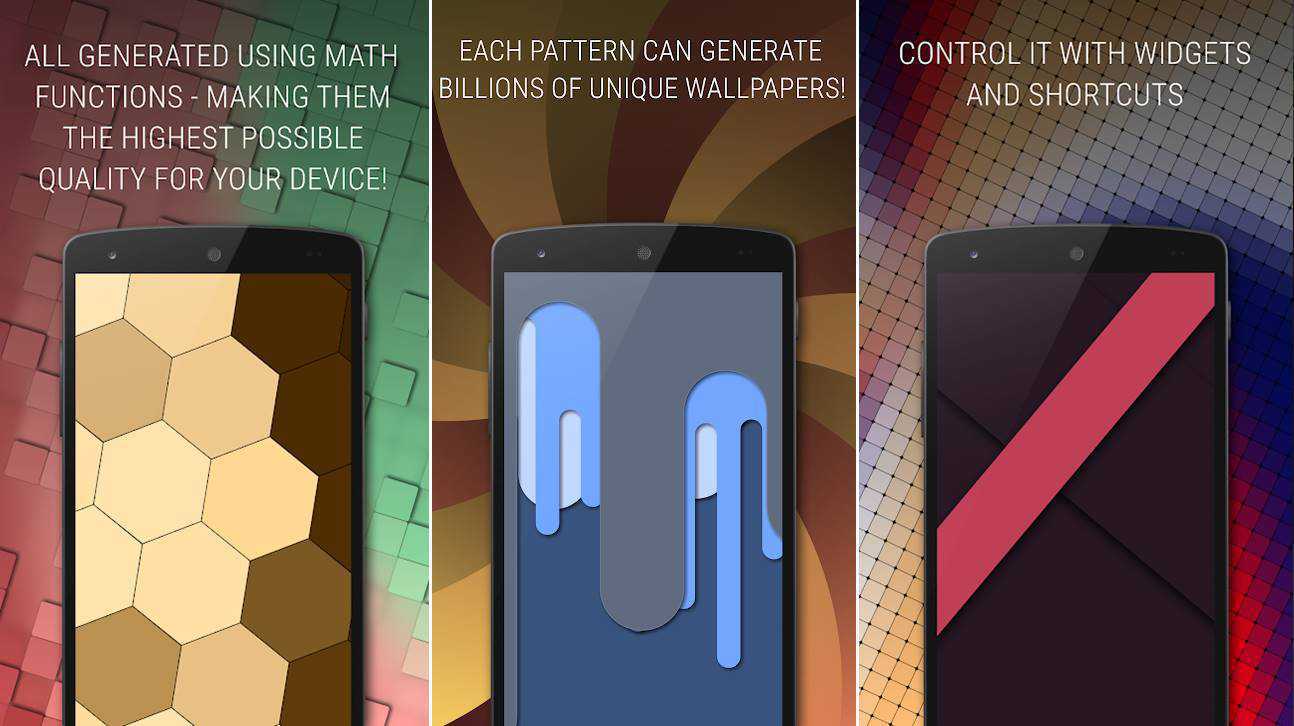 Tapet is a unique wallpaper app that can freshen up the look of your Android device and help you find the best Android wallpapers. It doesn't download any wallpaper from the web but generates it in your device through algorithms. You can also configure the app to set up a new wallpaper hourly or daily. The generated wallpaper will perfectly fit your smartphone's screen. Moreover, there is Muzei support, history of applied and liked wallpapers, etc.
6. Backgrounds HD (Wallpapers)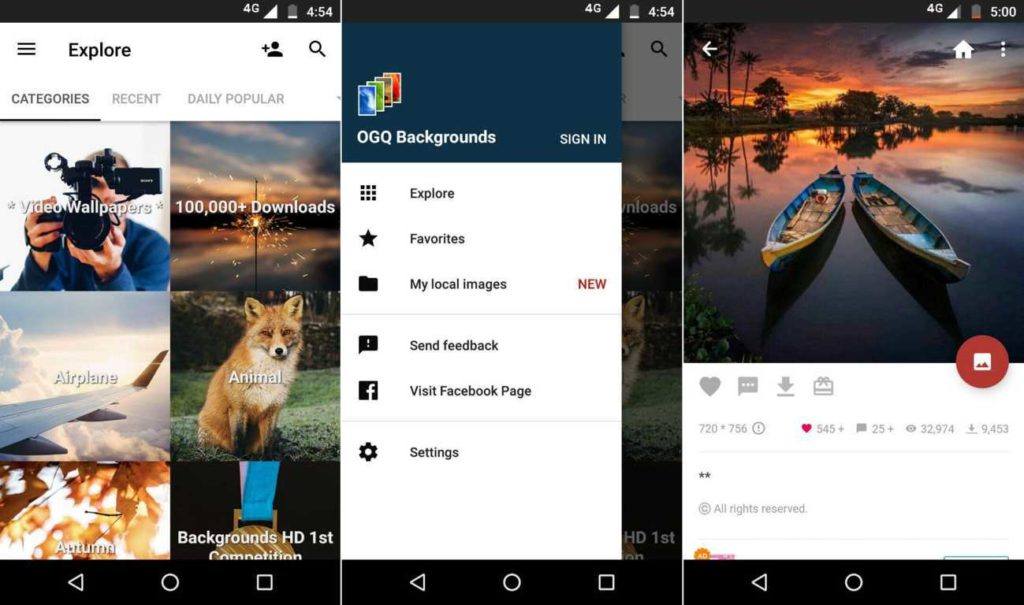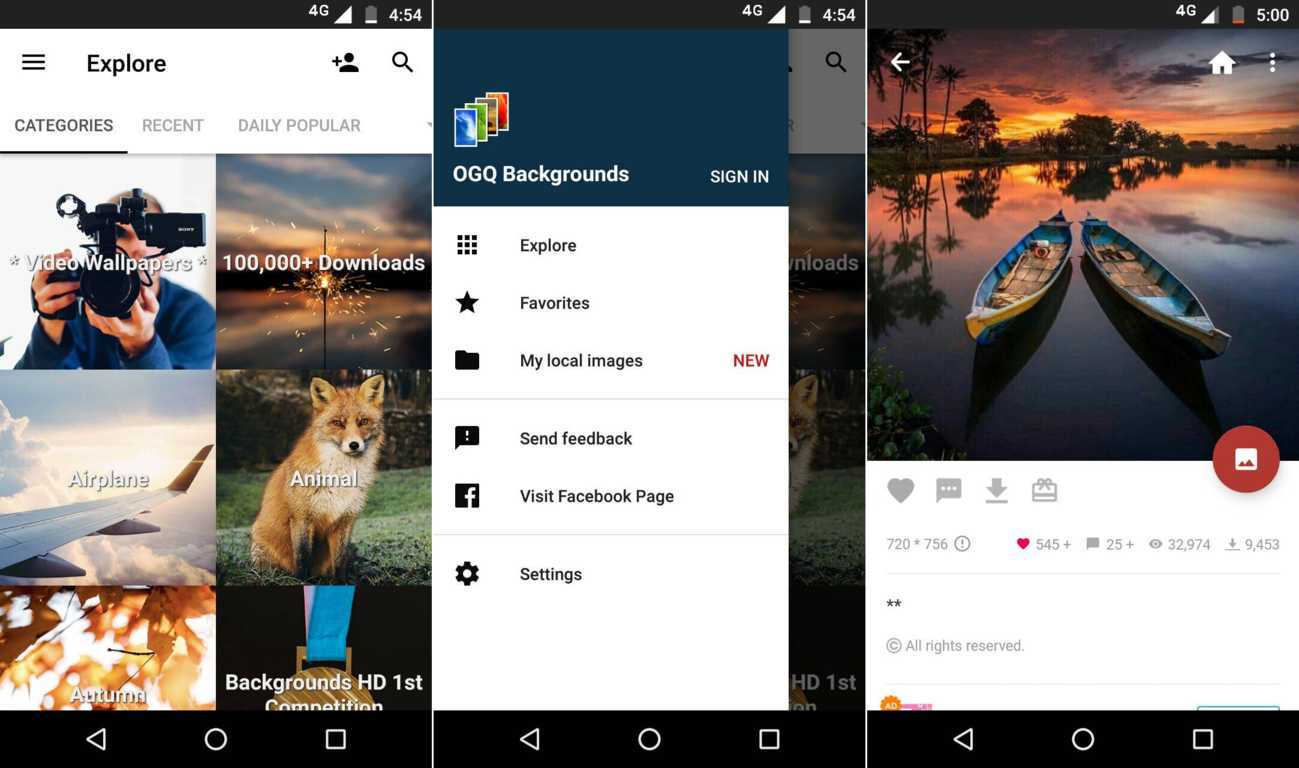 Backgrounds HD is one of the best free wallpaper apps for Android that has over 100 million downloads. It covers an extensive collection of wallpapers with more than 30 different categories. Before setting the wallpaper, you can crop, filter and select various wallpaper modes. It can also set wallpapers from within the app.
There is a favourite tab where you can store your favourite images and a history tab to view the wallpapers that you applied earlier. By signing in to the app, you can upload your work. It is free and ad-supported.
7. Backdrops – Wallpapers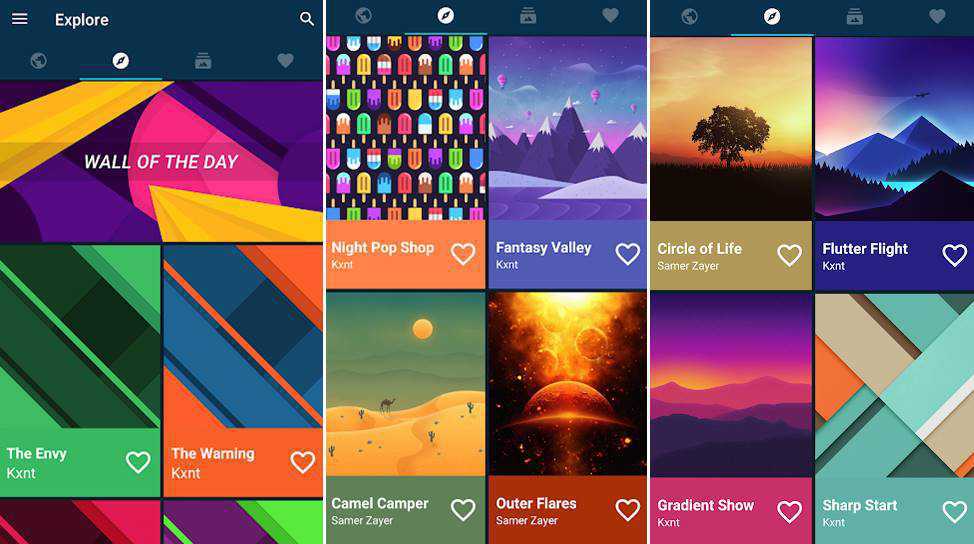 Backdrops is another impressive wallpaper app for Android where you can get hundreds of original wallpapers that are handcrafted by the Backdrops team. It has various categories like Abstract, Earth, Geometric, Pattern, Photography, Food, etc. You can favorite the images or even download them if you want. By signing in to the app, it allows you to sync your collection of favorites across multiple devices.
Moreover, every day the app showcases a newly created backdrop image under the option 'Wall of the Day.' The pro version of the app is ad-free and gives you access to more original designs. It is available as an in-app purchase.
8. Wallpapers HD & 4K Backgrounds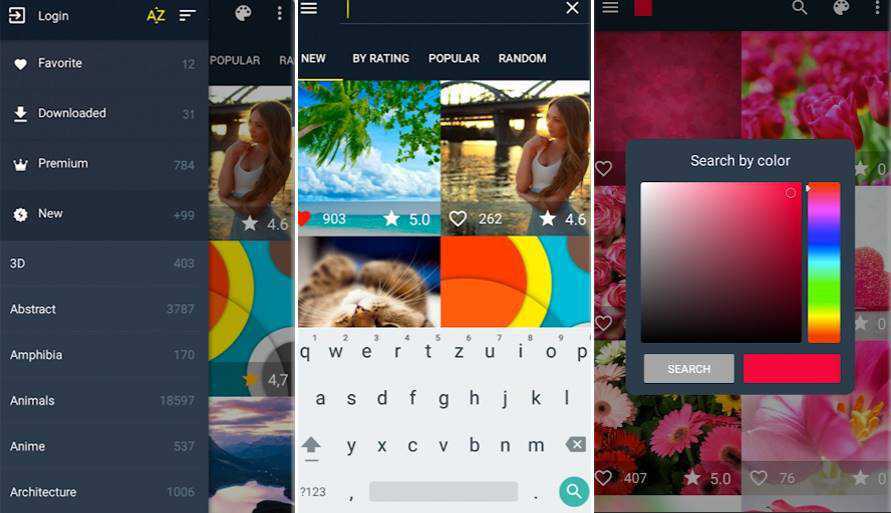 This Android wallpaper app has high-quality wallpapers with resolutions of 1920×1080, QHD, 4K, and UHD. There is a collection of 65 different categories. Also, the images are further sorted by date, rating, and popularity. The app is entirely customizable and allows you to set auto changing wallpapers at specified intervals. You can also search for pictures based on a particular color.
The app features an option for the best wallpaper of the day or the week. Moreover, you can download the images and save them in your SD-card. If you choose to create an account, you can favorite and rate the photos. Registered users can also submit their photographic works. It is free and ad-supported. You can enjoy the ad-free experience with a yearly subscription.
9. Abstruct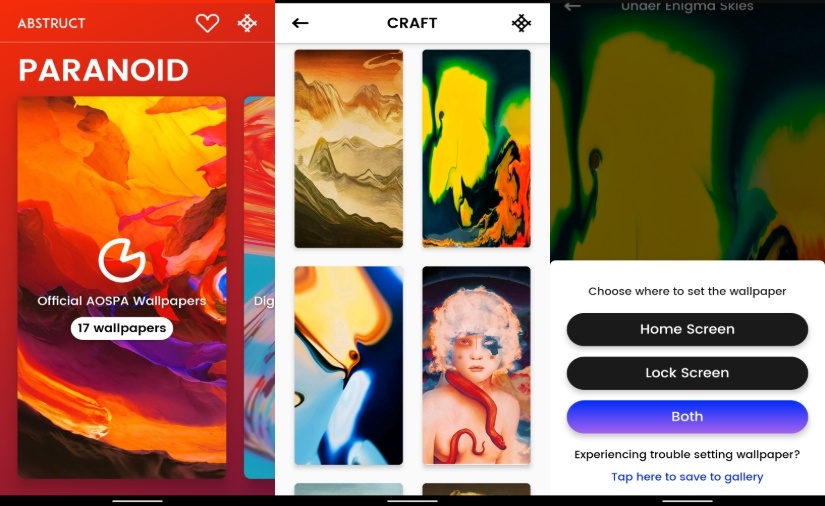 Abstruct is one of the top free wallpaper apps for Android, developed by Hampus Olsson. For those who don't know, it's the same guy who created those psychedelic wallpapers for the OnePlus devices.
Abstruct is not just any Android wallpaper app — it is a symbolisation of creativity, a mix of abstract and surreal. In fact, the idea behind Abstruct is "Abstract and Destruct", something that is visible right away in those cool wallpapers.
Enough of the expressionism, let's talk about the wallpaper app. The Android app contains over 300 wallpapers, all in 4K resolution. The interface includes wallpaper curated under different collections, displayed as stacks.
While Abstruct is laced with a mixture of warm and bright colors, the Android app lacks major settings options. Many features such as "Dark theme", "Auto wallpaper", "Adding to favourite" are missing in this Android wallpaper app. Another big issue is that many wallpaper packs are locked for the pro version that is priced for $1.99.
10. Hidey Hole [Wallpapers for Galaxy S10 series]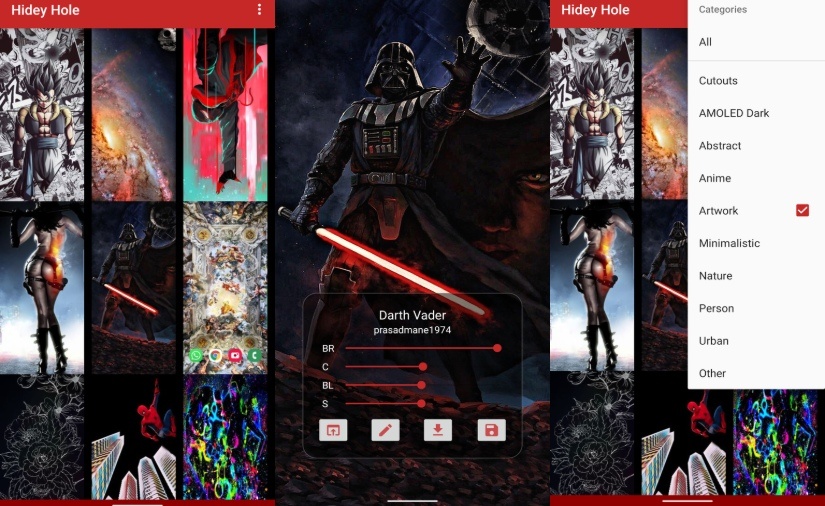 As stated in the name, the Hidey Hole Android wallpaper app is designed for the S10 series. However, that was true until Hole punch became a full-blown trend. Today, we have a lot of smartphones in the market that include a hole punch.
This Android app offers wallpapers that are created to hide the notch. A few wallpapers also work on smartphones that include a dot-notch. The best part about this wallpaper app is that you can tailor the brightness, contrast, saturation of the wallpapers. Other than that, the Android app includes many wallpaper categories as well.
Did this list help you find the best Android wallpaper app? Share your reviews in the comments below.
Sumber http://www.ulitetech.com/